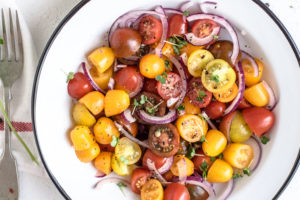 A fresh and simple tomato salad recipe that makes the perfect side to any meal.
Prep Time: 5-10 mins
Cook Time: 0 mins
Yield: 2 Servings
You Will Need
1/4 cup olive oil
1/2 cup vinegar
1/2 teaspoon honey
1 teaspoon minced fresh garlic
1/4 teaspoon salt (more or less, to taste)
1/4 teaspoon pepper (more or less, to taste)
1 pint grape or cherry tomatoes, halved
1/2 cup thinly sliced red onion
1/4 cup loosely packed chopped fresh basil or your favorite herb (optional)
Instructions
In a medium bowl, whisk together olive oil, vinegar, honey, garlic, salt and pepper. Set aside.
In another medium bowl, gently toss tomatoes and onions together to combine.
Drizzle with olive oil mixture and sprinkle with basil or other favorite herb.
Gently stir to combine. Serve immediately or store in fridge till ready to eat.
Got a recipe to share?
Send us your best Full Cart recipes and you could get featured!