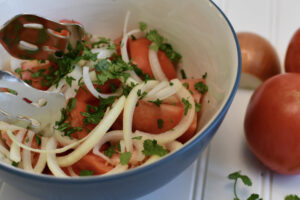 Vegan | Vegetarian | Lactose Free | Gluten Free
Prep Time: 10 mins
Cook Time: 0 mins
Yield: 4 Servings
You Will Need
3 – 5 tomatoes, quartered
1 – 2 onions, peeled, halved, and sliced in half moons
Kosher salt and ground black pepper to taste
2 tbsp extra-virgin olive oil
1 tbsp vinegar (anything you have on hand)
1⁄4 tsp Dijon mustard
1 handful fresh cilantro, roughly chopped
Instructions
Place tomatoes, and onion in a serving bowl.
Season with salt and pepper.
In a small mixing bowl or a mason jar combine oil, vinegar, and mustard.
Pour a few tablespoons over tomatoes and onions. Toss to coat.
Taste and adjust seasoning if needed.
Top with freshly chopped cilantro just before serving.
Got a recipe to share?
Send us your best Full Cart recipes and you could get featured!