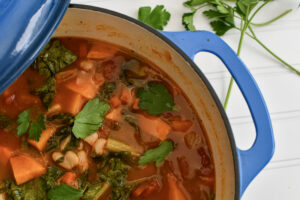 High Fiber | Low Fat | Vegan | Vegetarian | Dairy Free | Gluten Free | Kid Friendly
Prep Time: 15 mins
Cook Time: 45 mins
Yield: 6 Servings
You Will Need
1 tsp olive oil
1 onion, diced
1 carrot, diced
3 cloves garlic, minced
1 tsp cumin
1 tbsp smoked paprika
2 cups romaine lettuce, roughly chopped
2 sweet potatoes, peeled and diced
1 (15 oz.) can diced tomatoes
32 oz. low sodium vegetable stock
1 (15 oz.) can chickpeas, white, or kidney beans, drained & rinsed
1 tsp cilantro or parsley, freshly chopped
Kosher salt and ground pepper to taste
Instructions
Heat oil in a large pot over medium heat.
Once oil is hot, add onion and carrot. Cook about 2-4 minutes until onion begins to soften.
Season with salt and pepper to taste.
Add the garlic, cumin and paprika. Stir to coat onion and carrot and cook till fragrant.
Add the lettuce, sweet potato, canned tomatoes with their juices, and vegetable stock.
Bring to a boil and reduce the heat to medium-low, cover, and let simmer until potatoes are tender. (approx. 20 min.)
Once the potatoes are tender, stir in the drained beans and simmer for another 5 minutes.
Remove from heat and serve in bowls garnished with some fresh chopped cilantro or parsley.
Got a recipe to share?
Send us your best Full Cart recipes and you could get featured!