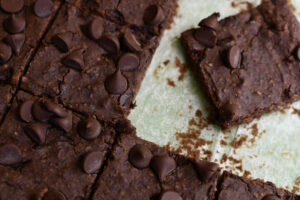 Low Sodium | Vegetarian | Kid Friendly
Prep Time: 30 mins
Cook Time: 20 mins
Yield: 16 Servings
You Will Need
1 sweet potato, peeled and diced
1⁄4 cup + 3 tbsp all-purpose flour
1⁄2 cup sugar
1⁄4 cup + 2 tbsp cocoa powder
1 1⁄2 tsp baking soda
1/8 tsp salt
1 cup peanut butter
1 tsp vanilla extract
1⁄2 cup chocolate chips
Instructions
Place rack in center of oven and preheat to 325°F.
Grease an 8×8 inch square pan with nonstick spray and set aside.
Bring a large pot of water to a boil. Add sweet potatoes and boil over medium-high heat for 15-20 min. or until very soft.
Strain potatoes into a colander and let cool.
In a mixing bowl, add flour, sugar, cocoa powder, baking soda, and salt.
Using a whisk or wooden spoon, stir to combine.
Once the sweet potatoes have cooled, add them to a blender and blend until smooth (or use a potato masher).
Place 3⁄4 cup blended sweet potato in large mixing bowl, set aside.
Place peanut butter in a microwave safe bowl and heat in microwave for 45 seconds.
Stir and continue to heat in 15 second intervals, stirring in between, until it is thin and smooth.
Add peanut butter and vanilla to the sweet potato and combine.
Pour flour mixture over the sweet potato mixture and stir until combined.
Using a spatula fold in the chocolate chips and pour mixture into the 8×8 pan and smooth the top.
Bake on the center rack for 20 minutes.
Let cool. Once cooled cut into 16 pieces and enjoy.
Got a recipe to share?
Send us your best Full Cart recipes and you could get featured!