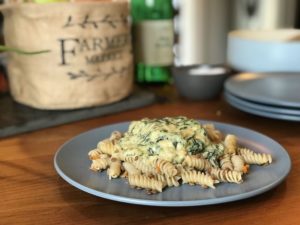 Yummy, protein-packed and nutritious greens. This rich and creamy chicken and spinach alfredo pasta has it all.
Prep Time: 10 mins
Cook Time: 20 mins
Yield: 6 Servings
You Will Need
13.2 oz. of Pasta Bites-Italian Veggie Pasta
2 Tbsp Olive Oil
2 Chicken Breasts, thinly sliced
3 Cloves of Garlic, minced
5 oz Spinach
2 Tsp Salt
2 Tsp Pepper
2 Cups Heavy Cream
1 Cup Parmesan Cheese, grated
1/2 Cup Fresh Parsley, chopped
Instructions
Cook two packages of Italian Veggie Pasta from your Full Cart order, according to package instructions.
While the Italian Veggie Pasta is cooking, heat oil in a large pot over high heat and cook the chicken until no pink is showing.
Add the garlic, spinach, salt and pepper then cook until the spinach is wilted.
Pour in the heavy cream and bring to a boil.
Add the pasta, cheese and parsley then stir until the pasta is coated evenly.
Got a recipe to share?
Send us your best Full Cart recipes and you could get featured!