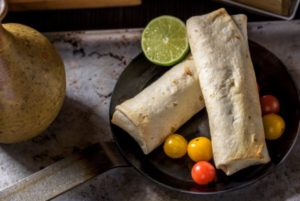 This recipe takes a classic burrito and kicks it up a notch with some Southwestern Chicken and a personal twist of our classic Red Lentil Jambalaya.
Prep Time: < 5 mins
Cook Time: 30-35 mins
Yield: 6 Servings
You Will Need
1 Bag of Red Lentil Jambalaya
1 Southwestern Chicken Packet
Tortillas
Coconut Water (optional)
Lettuce (optional)
Cheese (optional)
Instructions
Cook one package of Red Lentil Jambalaya (optional-substitute coconut water for water)!
While the Red Lentil Jambalaya is cooking, prepare your Southwestern Chicken by following the instructions on the package.
Once the Red Lentil Jambalaya is finished cooking, combine it with the Southwestern Chicken in a large bowl.
Simply add a portion of it in a tortilla of your choice, top with lettuce and cheese (optional).
Got a recipe to share?
Send us your best Full Cart recipes and you could get featured!