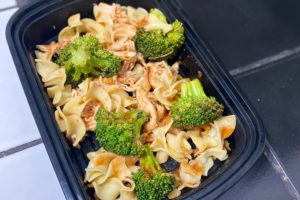 A perfect plate of pasta is one of life's simple pleasures! Next time you're looking to get a taste of Italy, try this protein-packed, nutrient-dense meal.
Prep Time: 10 mins
Cook Time: 8 hours
Yield: 4 Servings
You Will Need
1 Bag of Pasta Bites-Italian Veggie Pasta
2 Jars Marinara Sauce
8 Oz. Boneless Skinless Chicken Breast
2 Tbsp. Parmesan Cheese
12 Oz. Broccoli
3 Tbsp. Olive Oil
Salt and Pepper to Taste
Instructions
Add the chicken, salt, pepper, and marinara sauce in a slow cooker. Leave on low for 8 hours (or high for 4 hours).
Mix and shred the cooked chicken. Cook for another 20 minutes on low.
While the chicken is in the cooker, prepare the Italian Veggie Pasta according to the package directions.
In a separate skillet, heat the olive oil over medium/high heat. Add in the spinach and cook until wilted.
Combine all ingredients in a bowl and sprinkle with parmesan cheese.
Got a recipe to share?
Send us your best Full Cart recipes and you could get featured!