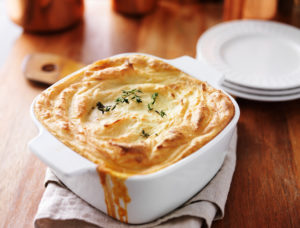 Shepherd's Pie is delicious partly due to the tasty mashed potatoes! Luckily, Mashed Potatoes are included in your Full Cart order!
Prep Time: 10 mins
Cook Time: 40 mins
Yield: 6 Servings
You Will Need
1 lb. Ground Lamb or Beef
1 Medium Onion, diced
2 Cloves Garlic, minced
10 oz Frozen Peas and Carrots, defrosted
10.5 oz Can Corn, drained
10 oz Can Tomato Soup or Mushroom Soup
1 tsp Worcestershire Sauce
½ teaspoon salt
¼ teaspoon basil
1/8 teaspoon black pepper
Full Cart Mashed Potatoes
1 Cup Cheddar Cheese, shredded (optional)
Instructions
Preheat oven to 400°F.
Cook lamb or beef, onion and garlic over medium heat until no pink remains. Drain any fat.
Stir in soup, Worcestershire sauce, salt, basil and pepper.
Spread into the bottom of a 2 qt casserole dish.
Sprinkle with peas, carrots and corn. Then scoop mashed potatoes over the mix and top with cheese (optional).
Bake 25-30 minutes or until bubbly.
Got a recipe to share?
Send us your best Full Cart recipes and you could get featured!