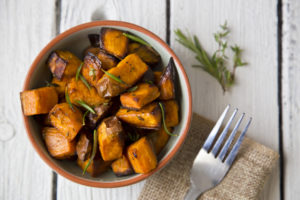 Roasted sweet potatoes are an easy to prepare, delicious and healthy snack that contains lots of vitamins and boosts your energy.
Prep Time: 5 mins
Cook Time: ~30 mins
Yield: 1-2 Servings
You Will Need
1 Sweet Potato
2 Tsp of Coconut or Olive Oil
Pepper
Salt
Instructions
Preheat oven to 425 degrees F.
Peel and cube the sweet potatoes into 1/2 inch pieces.
Add to your largest sheet pan and add the melted coconut oil, salt and pepper.
Toss to coat all the sweet potatoes and then spread out to arrange in an even layer.
Flip every 10-15 minutes cooking for a total of 27-35 minutes.
Remove from oven and let cool before serving.
Got a recipe to share?
Send us your best Full Cart recipes and you could get featured!