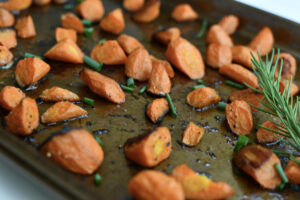 High Fiber | Vegetarian | Gluten Free | Kid Friendly
Prep Time: 10 mins
Cook Time: 30 mins
Yield: 4 Servings
You Will Need
2 lbs carrots, wash, peel and cut in a approx. 1⁄2 inch chunks
2 tbsp olive oil
Kosher Salt and ground pepper, to taste
2 tsp chopped fresh chives (optional)
2 tsp green onions (optional)
2 tsp fresh rosemary, chopped (optional)
2 tsp parsley, cilantro, or dill (optional)
Spice It Up
1 tsp chili powder
1⁄4 tsp cumin
1⁄2 tsp ground cinnamon
Sweeten It Up
1 tbsp unsalted butter
1 tbsp honey
Instructions
Preheat oven to 400 degrees.
Line a large baking sheet with parchment paper.
Place the carrots on the baking sheet.
Add the olive oil, salt, and a pepper to taste. (If you are spicing it up add spices now.)
Toss until the carrots are lightly coated then arrange them in a single layer.
Roast until caramelized on edges and easily pierced through with the tip of a knife. About 25-30 minutes, tossing halfway.
If making sweet version: While carrots are roasting, melt butter in a small saucepan over medium low heat. Once melted, whisk in honey and keep warm over low heat. Once carrots are cooked, drizzle over and toss to coat.
Place in a serving bowl and toss with any combination of fresh herbs.
Got a recipe to share?
Send us your best Full Cart recipes and you could get featured!