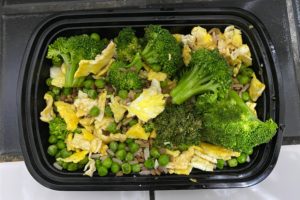 Try this stir fry recipe, loaded with delicious vegetables and yummy soy sauce! You'll be wowed by the amazing flavor packed in this easy recipe.
Prep Time: 10 mins
Cook Time: 35 mins
Yield: 4 Servings
You Will Need
1 Bag of Red Lentil Jambalaya
12 Oz. Bag of Frozen Peas
12 Oz. Broccoli
8 Eggs
4 Tbsp. of Soy Sauce
Cooking Spray
3 Tbsp. Olive Oil
Instructions
Cook Red Lentil Jambalaya according to package instructions.
In one skillet, heat 3 tbsp. of olive oil. Add broccoli and peas, cook until the broccoli begins to get brown.
In another skillet, spray cooking spray and heat. Crack eggs into the pan and scramble them until fully cooked.
Combine all ingredients together in a bowl. Add the soy sauce and mix!
Got a recipe to share?
Send us your best Full Cart recipes and you could get featured!