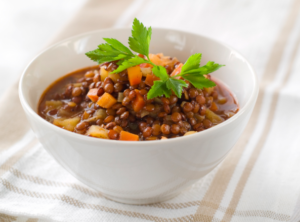 For chilly Spring nights, enjoy this Red Lentil Jambalaya Stew! This flavorful meal is sure to warm the stomachs and hearts of your entire family. Enjoy!
Prep Time: 5 mins
Cook Time: 55 mins
Yield: 6 Servings
You Will Need
1 Bag of Red Lentil Jambalaya
8 oz. Andouille Sausage, Cut into 1/4-inch Slices
2 Tbsp. Butter or Margarine
3 Cups Chicken Stock
2 Russet Potatoes, chopped
4 Green Onions, Thinly Sliced
1 Large Green Bell Pepper, Diced
2 Carrots, Chopped
Instructions
Place butter and sausage in a large stock pot over medium heat; stir continuously for 5-6 minutes until sausage begins to brown.
Add remaining ingredients and turn heat to low.
Cover and cook for until rice is just tender, about 45 minutes. Season with salt and black pepper.
Got a recipe to share?
Send us your best Full Cart recipes and you could get featured!