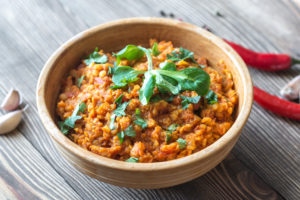 Kick your meal up a notch with this delicious Indian influenced Red Lentil Curry Jambalaya.
Prep Time: 30 mins
Cook Time: 45 mins
Yield: 6 Servings
You Will Need
1 Bag of Red Lentil Jambalaya
1 Tbsp Olive Oil
2 Cloves Garlic
1 Medium Onion
3 Medium Carrots (1/2 lb)
2 Tbsp Curry Powder (Hot or Mild)
15 oz Can Tomato Sauce
Salt to Taste
1/2 Bunch Fresh Cilantro (optional)
Instructions
Prepare bag of Red Lentil Jambalaya by following instructions on the package.
Meanwhile, mince the garlic and finely dice the onion and carrots.
Sauté the onion, garlic and carrots in a large skillet with olive oil over medium heat until the onions are transparent (~ 5 mins).
Add the curry powder and sauté for one minute.
Add the cooked and drained Jambalaya mix to the skillet, along with the tomato sauce. Stir and heat through (~ 5 mins).
Remove from heat and add salt and pepper to taste.
Pour mixture into a casserole dish or oven safe container.
Top the dish with the remaining seasonings and tomato sauce. Bake for 30 minutes at 350°F.
Top with fresh cilantro and serve with naan or crusty bread.
Got a recipe to share?
Send us your best Full Cart recipes and you could get featured!