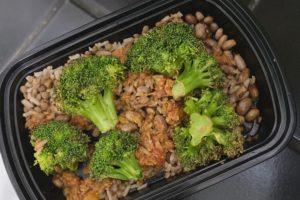 Our take on the Chipotle bowl using fresh ingredients plus items from your Full Cart box. Meal prep with your favorite veggies and proteins!
Prep Time: 1 hour
Cook Time: 10 mins
Yield: 4 Servings
You Will Need
1 Cup Pinto Beans
1 Cup Red Lentil Jambalaya
12 Oz. Broccoli
16 Oz. Lean Ground Beef
8 Tsp. Mrs. Dash Southwest Chipotle Seasoning
4 Tbsp Olive Oil
Cooking Spray
Instructions
Prep the pinto beans. Bring 4 cups of water to a boil, add the pinto beans and cook for 2 minutes.
Cover and let the pinto beans sit in the water for 1 hour while preparing the rest of the meal.
Cook the Red Lentil Jambalaya according to package instructions.
For the broccoli – preheat oven to 425 degrees.
Coat the broccoli in olive oil and seasoning. Bake for 18 minutes or until the edges are deeply golden.
Next, coat a skillet with cooking spray. Add lean ground beef and seasoning, cook until the beef is brown.
Mix together all of the ingredients in a bowl. Add a little bit more of the seasoning if you want an extra kick!
Got a recipe to share?
Send us your best Full Cart recipes and you could get featured!