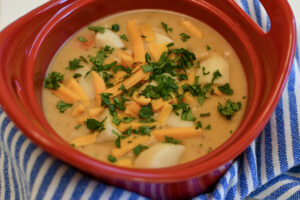 Low Sodium | Vegetarian | Kid Friendly
Prep Time: 15 mins
Cook Time: 25 mins
Yield: 6 Servings
You Will Need
1 tbsp olive oil
2 carrots, peeled and diced
2 stalks celery, diced
1 onion, diced
4 potatoes, peeled and diced
1⁄2 tsp smoked paprika or chili powder
Salt and ground pepper to taste
4 cups low-sodium vegetable broth (sub chicken if you prefer)
1 cup milk
3 tbsp all-purpose flour
1/4 cup heavy cream
1 tsp fresh cilantro, chopped
1 cup your favorite cheese, grated (optional)
6 slices crisp bacon, chopped (optional)
Instructions
In a large stock pot, heat oil over medium heat.
Add the carrots, celery, and onions. Stir and cook for approx. 2 minutes.
Add the diced potatoes. Stir together and cook for about 5 minutes.
Stir in paprika and season with salt and pepper.
Pour in the broth and bring it to a gentle boil cooking until the potatoes are tender, about 10 minutes.
Whisk the milk and flour together and add to pot. Stirring together to combine.
Cook for another 5-8 minutes at simmer. Stir in cream.
Taste and add additional seasoning if needed.
Serve warm garnished with cilantro, cheese, and bacon (if using).
Got a recipe to share?
Send us your best Full Cart recipes and you could get featured!