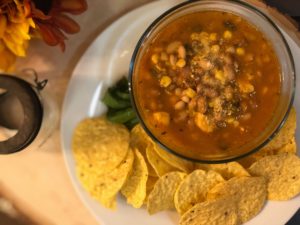 Try this recipe for those cold winter days or just when your craving a delicious bowl of soup!
Prep Time: 2 hours
Cook Time: 40 mins
Yield: 4 Servings
You Will Need
3 Cups Cooked Pinto Beans from Full Cart (following instructions on package)
2 Tbsp Canola Oil
1/2 Onion, Chopped
3 Cloves Garlic, Minced
1/2 Orange Bell Pepper, Diced
Kosher Salt (to taste)
Pepper (to taste)
1 1/2 Tsp Cumin
1 Tsp Chili Powder
16 Oz Chipotle Corn Salsa (or similar)
4 Cups Vegetable Broth
15 Oz Can Whole Kernel Corn, Drained
Small Tortilla Chips
Instructions
First, heat a large pot over medium heat and add in oil, onion, garlic, bell pepper and a pinch of salt and pepper.
Cook for 4-5 minutes, stirring often until vegetables are soft.
Add cumin, chili powder and stir well. Add salsa and vegetable broth and stir.
Increase heat and bring to a boil then add cooked pinto beans and corn.
Reduce heat and simmer with lid for 30 minutes.
Remove from heat and let cool before serving.
Got a recipe to share?
Send us your best Full Cart recipes and you could get featured!