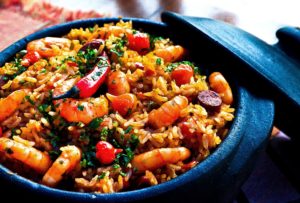 Here is some inspiration for a fun way to prepare a delicious traditional Spanish dish that's packed with flavor.
Prep Time: 10 mins
Cook Time: 80 mins
Yield: 8 Servings
You Will Need
Bag of Spanish Rice from your Full Cart order
1 cup Chopped Fresh Parsley*
1/4 cup fresh lemon juice*
1 tablespoon olive oil*
2 large garlic cloves, minced*
3 (16-ounce) cans fat-free, less-sodium chicken broth
1/2 lb of Jumbo Shrimp
2-4 skinned, boned chicken thighs, cut in half
2 links Spanish chorizo sausage, cut into 1/2″ slices
2 cups finely chopped onions
1 cup finely chopped red pepper
1 cup canned diced tomatoes, undrained
1 tsp sweet paprika
3 large cloves of garlic, minced
1 cup frozen green peas
1/4 cup of fresh lemon juice
Instructions
Prepare herb mix* with parsley, lemon juice, olive oil and garlic cloves. Set aside for later.
Prepare the Spanish Rice by following the instructions. Leave in a bowl to the side.
Peel and devein shrimp, leaving tails intact; set aside.
Heat 1 tablespoon oil in a large paella pan or large skillet over medium-high heat.
Add chicken; saute 2 minutes on each side. Remove from pan.
Add sausage; saute 2 minutes. Remove from pan.
Add shrimp, and saute 2 minutes. Remove from pan.
Reduce heat to medium-low. Add onion and bell pepper; saute 15 minutes, stirring occasionally.
Add tomatoes, paprika and 3 garlic cloves; cook 5 minutes.
Add rice; cook 1 minute, stirring constantly. Stir in herb blend*, broth mixture, peas, chicken, sausage and shrimp.
Bring to a low boil; cook 10 minutes, stirring frequently.
Got a recipe to share?
Send us your best Full Cart recipes and you could get featured!