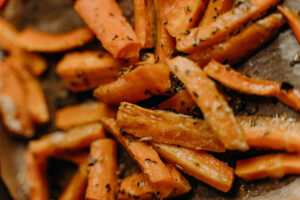 Carrots and spice and everything nice. Take your veggies up a notch with this flavorful recipe.
Prep Time: 15 mins
Cook Time: 25 mins
Yield: 4 Servings
You Will Need
1 Pound of Carrots
2 Tbsp of Olive Oil
1/4 Tsp Pepper
1/4 Tsp Salt
1/4 Tsp Ground Coriander
1/4 Tsp Ground Cumin
1/8 Tsp Chili Powder
1/8 Tsp Paprika
A Dash of Ground Ginger
A Dash of Cinnamon
Instructions
Preheat oven to 400 degrees F.
Quarter slice the carrots.
In a large bowl, toss carrots with oil.
Mix seasonings; sprinkle over carrots and toss to coat.
Arrange carrots in a single layer in a large baking pan coated with cooking spray.
Roast 25-30 minutes or until lightly browned and crisp-tender, stirring occasionally.
Remove from oven and let cool before serving.
Got a recipe to share?
Send us your best Full Cart recipes and you could get featured!