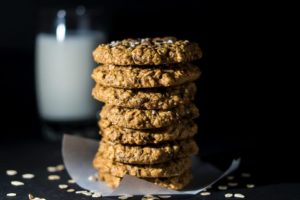 A healthier dessert option that is delicious and easy to make! You can use any flavor of oatmeal.
Prep Time: < 5 mins
Cook Time: 14-16 mins
Yield: 6 Servings
You Will Need
1/2 Cup Butter, room temperature
1/4 Cup White Sugar
1/2 Cup Brown Sugar
1 Tbsp Milk
1 Egg, room temperature
1/4 Tsp Baking Powder
1/2 Tsp Baking Soda
6 Packets Flavored Instant Oatmeal
1 Cup All-purpose Flour
1/2 Cup of Raisins or Nuts (optional)
Instructions
Preheat oven to 350°F.
Beat softened butter with the white sugar and brown sugar until smooth and creamy, then beat in the milk and egg until smooth.
Meanwhile, stir the dry ingredients together in a separate bowl.
Gently mix in dry ingredients into wet ingredients until evenly blended. Mix in the nuts or raisins (optional).
Place tablespoonfuls of dough about 2-inches apart on prepared baking sheets, flattening the tops until they're about 1/4 inch thick.
Bake for about 8-10 minutes or until the cookies are light brown and crispy on the edges.
Cool on baking sheets 2 minutes. Place on cooling rack to cool completely.
Got a recipe to share?
Send us your best Full Cart recipes and you could get featured!