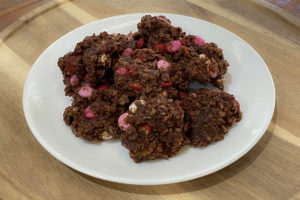 Show your love with these homemade no bake Oatmeal M&M Cookies. The perfect mixture of chewy and crispy with a burst of chocolate goodness!
Prep Time: 5 mins
Cook Time: 10 mins
Yield: 24 Servings
You Will Need
½ Cup Unsalted Butter
1 ½ Cup Granulated Sugar
½ Cup Packed Brown Sugar
½ Cup Milk
4 Tbsp. Cocoa Powder
1 Pinch Salt
½ Cup Creamy Peanut Butter
2 Tsp. Vanilla
½ Cup Valentine's Day M&M's
3 Cups of Oats from Full Cart
Instructions
Add butter, both sugars, milk, cocoa, and salt into a sauce pan.
Bring to a boil and let it sit for 1 minute. Remove from heat.
Add the peanut butter into the mixture and stir until melted.
Add in vanilla and oats until the oats are completely coated. Fold in the M&M's.
Scoop mix by the spoonfuls onto wax paper. Let cool until set. You can store them in the fridge to help cool!
Got a recipe to share?
Send us your best Full Cart recipes and you could get featured!