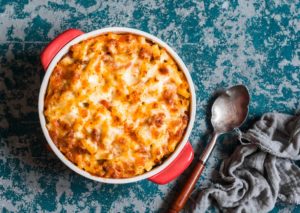 The great thing about the Full Cart Kidz Mac is how versatile it is. Try this savory take on Mac and Cheese today!
Prep Time: < 5 mins
Cook Time: 50-60 mins
Yield: 6 Servings
You Will Need
Kidz Mac Meal Kit
1 Cup of Sharp Cheddar, grated
1 Cup of Parmesan Cheese, grated
1 lb Ground Beef
2 Cloves Minced Garlic
Jar of Pasta Sauce
Kosher Salt (to taste)
Pepper (to taste)
Diced Green Peppers (optional)
Diced Onion (optional)
Instructions
Preheat oven to 375°F.
Cook your Kidz Mac according to package instructions. While cooking, brown the ground beef and drain.
Once Kidz Mac is complete, combine with beef, green pepper, onion, garlic, 2 cups of pasta sauce and 1/2 cup of each cheese.
Pour into a 9×13 casserole dish. Cover the top with the remaining cheeses. Bake for 35-40 minutes or until bubbly on top.
Got a recipe to share?
Send us your best Full Cart recipes and you could get featured!