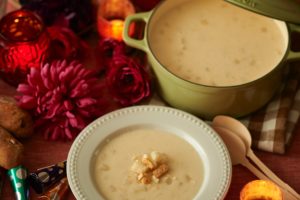 The Instant Mashed Potatoes in your Full Cart order can be used in so many creative ways. One of the easiest recipes to make is this delicious Instant Potato Soup.
Prep Time: 5 mins
Cook Time: 10 mins
Yield: 6 Servings
You Will Need
Instant Mashed Potatoes from Full Cart Order
1 Green Onion
1 Clove of Garlic
1 Tbsp of Butter
4 Cups of Milk
Pepper
Salt
Instructions
Chop green onion and garlic.
Add chopped green onion, garlic and butter to pan at medium-low heat.
Add milk, salt, pepper and instant potatoes.
Heat for a few minutes, stir and enjoy!
Got a recipe to share?
Send us your best Full Cart recipes and you could get featured!