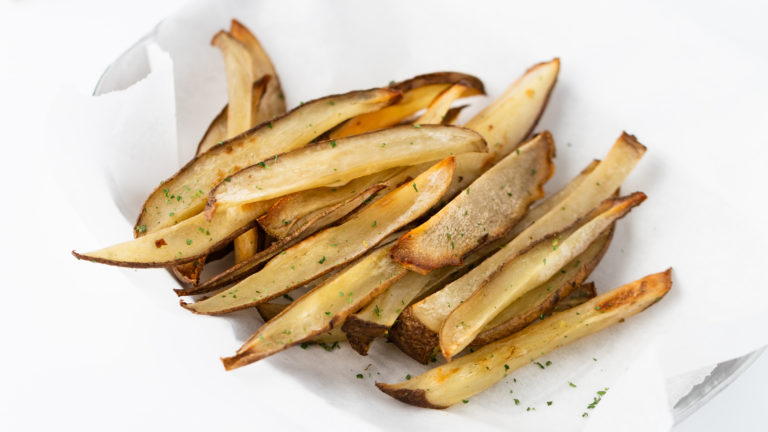 "
How to make easy and crispy homemade French Fries in the oven. These baked French Fries are the perfect side and better than fried.
Prep Time: 15 mins
Cook Time: 30 mins
Yield: 4 Servings
You Will Need
2-3 Tbsp. Olive Oil
4-5 Potatoes
1 Tsp. Garlic Powder
1/4 Tsp. Onion Powder
1 Tbsp. Optional Herb (Rosemary, Thyme, Parsley)
Salt and Pepper
Instructions
Preheat the over to 450 degrees Fahrenheit. Coat a baking sheet in half of the olive oil.
Clean and cut the potatoes into wedges. Soak for 10 minutes in a bowl of hot water.
Drain the water, dry the potato wedges, and coat them in the rest of the olive oil.
Sprinkle with garlic powder, onion powder, herb, salt, and pepper.
Toss to coat and lay in a single layer on the baking sheet.
Roast for 25-30 minutes. Flipping them half way through.
Remove from oven and serve!
Got a recipe to share?
Send us your best Full Cart recipes and you could get featured!