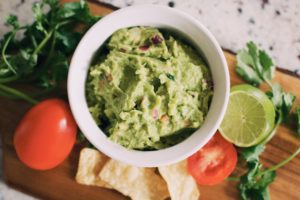 " alt="" width="600″ height="400″ class="size-medium wp-image-24578″>
Prepare this simple and fresh guacamole recipe that is sure to be a hit!
Prep Time: 10 mins
Cook Time: 0 mins
Yield: 6 Servings
You Will Need
2-3 ripe avocados, peeled and pitted
1/4 cup finely diced red onion
1/2 tablespoon lime juice
1/4 cup fresh cilantro leaves, finely chopped
1 roma tomato, cored and chopped)
1/4 teaspoon salt
Instructions
In a medium mixing bowl, use a fork to mash the avocados to your desired consistency.
Stir in the onion, lime juice, cilantro until well-mixed.
Add tomatoes last and season with salt to taste.
Serve immediately for best results!
Got a recipe to share?
Send us your best Full Cart recipes and you could get featured!