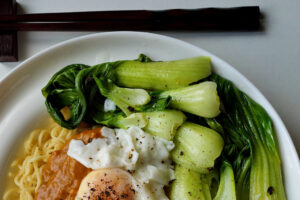 Crisp and full of flavor, this Garlic Baby Bok Choy Recipe is a great new side dish to add to your rotation.
Prep Time: 10 mins
Cook Time: 10 mins
Yield: 5-6 Servings
You Will Need
1 Tbsp Vegetable Oil
5 Cloves Garlic, minced
2 Large Shallots, minced (or 1 Small Onion)
2 Pounds Baby Bok Choy, halved
2 Tbsp Soy Sauce
1 Tsp Sesame Oil
1 Tsp Crushed Red Pepper
Instructions
Add the oil to a large wok or skillet over medium-high heat. Swirl to coat the entire surface of the pan.
Add the garlic and shallots, stirring continuously for 1-2 minutes, or until fragrant.
Add the bok choy, soy sauce, and sesame oil. Toss to coat and cover.
Cook for 1-2 minutes, uncover and toss, and then cover until bok choy is cooked.
Sprinkle with crushed red pepper and serve immediately.
Got a recipe to share?
Send us your best Full Cart recipes and you could get featured!