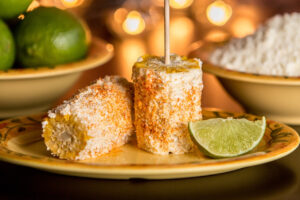 Make a classic Mexican street food at home with this simple recipe!
Prep Time: 10 mins
Cook Time: 5 mins
Yield: 4 Servings
You Will Need
1 – 4 ears of corn
1/2 cup cotija cheese or Parmesan cheese
1 lime, quartered
Chili powder (such as Tajin or ancho chile)
1/4 cup mayonnaise
Wooden sticks
Instructions
Shuck the corn, remove the silk and stalk.
Start the grill or bring a large pot of water to a boil.
Add corn to grill or water, cover and cook for 5 minutes, then remove.
When corn is cool enough to touch but still warm, insert wooden stick into core as a handle.
Brush corn with 1 tablespoon of mayonnaise, sprinkle with 2 tablespoons cheese and squeeze of lime wedge.
Add hot sauce and chili powder to taste.
Repeat with remaining ears of corn and serve.
Got a recipe to share?
Send us your best Full Cart recipes and you could get featured!