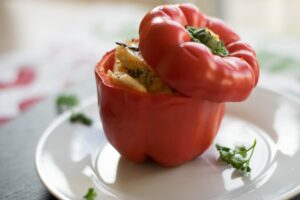 An easy pepper recipe for a perfect weeknight dinner and they are also great for meal prepping.
Prep Time: 10 mins
Cook Time: 30 mins
Yield: 7 Servings
You Will Need
2 Tbsp Olive Oil
1 Medium Onion, diced
2-3 Garlic Cloves, minced
1 lb Lean Ground Beef (Can Substitute with Ground Pork)
1½ Cup Cooked Brown Rice
1 14.5 oz Can Diced Tomatoes
1 Tbsp Paprika
Salt and Pepper, to Taste
7 Large Bell Peppers top and core removed
Instructions
Preheat oven to 375 degrees F.
Place the peppers cut side up into a baking dish or a rimmed tray.
Heat oil in a large pan over medium heat. Sauté onion until softens, then stir in garlic and cook for about 1 minute more.
Add ground beef and cook until no longer pink, breaking up meat with a wooden spoon, for 5-6 minutes.
Stir in cooked brown rice, diced tomatoes, and paprika.
Cook until sauce is slightly reduced, about 4-5 minutes. Taste and season with salt and pepper as needed.
Stuff each pepper with beef mixture and bake until peppers are mostly tender. About 10-12 minutes.
Got a recipe to share?
Send us your best Full Cart recipes and you could get featured!