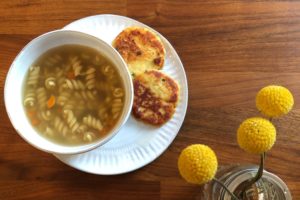 Check out these savory latkes made from Instant Potatoes that complement your Farm and Ladle: Chicken Noodle Soup perfectly!
Prep Time: < 5 mins
Cook Time: 25 mins
Yield: 6 Servings
You Will Need
7.1 oz. bag of Farm and Ladle: Chicken Noodle Soup from Full Cart Order
Instant Mashed Potatoes from Full Cart Order
1 Egg
1 Cup of Milk
1/3 Cup Green Onions, chopped
Instructions
Prepare the Chicken Noodle Soup by following the instructions on the package.
While the soup is cooking, mix potatoes, egg, milk and green onions together.
Heat olive oil in a skillet on medium heat.
Shape mixture into balls and flatten
Fry latkes for about 6 minutes on each side or until golden brown.
Got a recipe to share?
Send us your best Full Cart recipes and you could get featured!