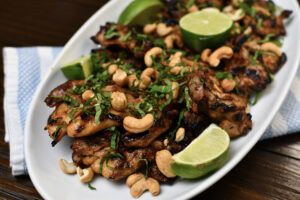 Low Carb | Paleo | Lactose Free | Gluten Free | Kid Friendly
Prep Time: 35 mins
Cook Time: 20 mins
Yield: 6 Servings
You Will Need
2-3 pounds boneless skinless chicken thighs
4 limes, zested and juiced
1 cup cilantro, roughly chopped/li>
1⁄2 cup olive oil
2 tbsp honey
1 tbsp cumin
Kosher Salt and ground pepper to taste
Extra cilantro and lime wedges for garnish
Instructions
Place chicken in a shallow baking dish.
In a large mixing bowl whisk together lime zest, lime juice, cilantro, olive oil, honey, cumin, salt and pepper.
Pour the mixture over the chicken. Cover with plastic wrap and refrigerate for 30 minutes up to overnight.
Turn on grill to a medium high heat.
Cover and let grill get hot for approximately 5 minutes.
Place chicken on grill and cook about 6-8 minutes per side or until an instant read thermometer registers 165 degrees Fahrenheit in the thickest part of the chicken.
If the chicken seems to be getting too charred, move them to a cooler side of the grill to finish cooking.
Place chicken on a platter and garnish with lime wedges and cilantro.
Got a recipe to share?
Send us your best Full Cart recipes and you could get featured!