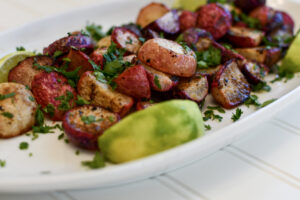 Low Sodium | Vegan | Vegetarian | Lactose Free | Gluten Free | Keto | Paleo
Prep Time: 10 mins
Cook Time: 35 mins
Yield: 4 Servings
You Will Need
1 lb. radishes, cut in half
2 tbsp olive oil
1 tsp chili powder
Zest of 1 lime (optional)
1 tbsp fresh lime juice
1 cup cilantro, roughly chopped
Kosher salt and ground black pepper to taste
Instructions
Preheat oven to 425 degrees.
In a large mixing bowl toss radishes, olive oil, chili powder, lime zest, lime juice, salt, and pepper.
Place radishes on a baking sheet and cook for 30 to 35 minutes stirring once, until radishes are golden and tender.
Place in serving bowl and toss with cilantro.
Got a recipe to share?
Send us your best Full Cart recipes and you could get featured!