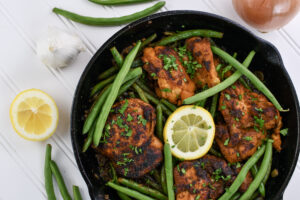 High Fiber | Vegetarian | Gluten Free | Kid Friendly
Prep Time: 10 mins
Cook Time: 30 mins
Yield: 4 Servings
You Will Need
3 tbsp olive oil or vegetable oil
1 tsp paprika
1 tsp onion powder
Kosher salt and pepper to taste
6 skinless, boneless chicken thighs
4 cloves fresh garlic, finely chopped
1⁄2 onion, finely chopped
1 lb. green beans, trimmed
Zest of 1 lemon
Juice of 1/2 lemon
1/2 cup chicken broth
1 tbsp hot sauce
1/2 cup fresh chopped parsley or cilantro
Lemon slices, for garnish
Instructions
In a small bowl, combine onion powder, paprika, salt, and pepper.
Place chicken in a large bowl, sprinkle seasoning over chicken and toss till chicken is well coated. Set aside.
Place a large skillet over medium heat. Add 2 tablespoons of oil.
Once oil is hot, place chicken thighs in a single layer. (You may need to work in batches if your pan isn't large enough.)
Cook for 5-6 minutes per side or until an instant read thermometer registers 165 degrees.
Transfer chicken to a plate, cover with foil and set aside.
Using the same skillet, lower heat and add the remaining tablespoon of oil.
Add onion and garlic and cook till fragrant and onions begin to soften, about 2 minutes.
Add hot sauce and green beans. Cook for 4-5 minutes, stirring occasionally till beans are bright green and crisp.
Add lemon zest, juice, and chicken broth. Cook till sauce reduces and is slightly thickened.
Add chicken back and cook till just heated through.
Transfer to a serving dish and garnish with freshly chopped parsley or cilantro, and lemon slices.
Got a recipe to share?
Send us your best Full Cart recipes and you could get featured!