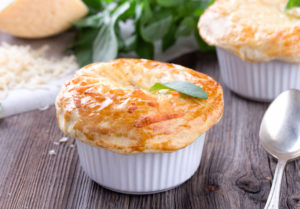 Delicious dinner idea with the ultimate comfort food! Inspired by Taylor's Chicken Pot Pie Pasta recipe.
Prep Time: 15 mins
Cook Time: 30-40 mins
Yield: 6 Servings
You Will Need
7.1 oz. of Farm and Ladle: Chicken Noodle Soup (using half the water indicated on the suggested cooking instructions)
1/4 Cup of Corn Starch
1/2 Cup of Milk
Shredded Chicken
Medley of Frozen Peas, Carrots, and Corn
Pie Crust
Instructions
Mix all ingredients in a stock pot (reminder: only use half the amount of water necessary for the Chicken Noodle Soup.)
Cook until noodles are soft.
Then pour mixture into your choice of casserole dish or individual, oven safe bowls.
Add a pie crust over the top of your dish, bake at 425°F for 30-40 minutes and enjoy!
Got a recipe to share?
Send us your best Full Cart recipes and you could get featured!