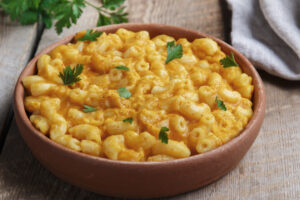 Sugar Conscious | Kid Friendly | Vegetarian
Prep Time: 10 mins
Cook Time: 60 mins
Yield: 6 Servings
You Will Need
1 butternut squash peeled, seeded and cut into 1⁄2 inch cubes
1 cup low sodium vegetable broth
1 1⁄2 cups low fat milk
1/8 tsp ground nutmeg
1/8 tsp cayenne pepper
1 (8oz) package pasta
1 cup shredded cheddar cheese
4 tbsp grated parmesan cheese
2 tbsp breadcrumbs
1 tsp canola oil
Cooking spray
Salt and pepper to taste
Instructions
Preheat oven to 375 degrees. Bring a large pot of salted water to a boil.
While water is coming to a boil in a separate saucepan, combine squash, stock and milk and bring to a boil.
Reduce heat to medium and simmer until squash is tender when pierced with a fork (Approx. 10 minutes).
Remove from heat. Using a potato masher, mash the squash with the milk and stock.
Add nutmeg, cayenne and salt and pepper to taste. Stir to combine.
Add noodles to boiling water and cook according to package instructions.
Drain pasta, transfer to a large bowl and stir in squash mixture, cheddar cheese and 2 tbsps of parmesan.
Coat a 9×9 baking dish with cooking spray and pour in noodle mixture.
In a small bowl combine panko breadcrumbs, remaining parmesan and olive oil, stir to combine.
Sprinkle evenly over pasta.
Cover with foil and bake for 20 min.
Remove foil and continue to bake until lightly browned and crisp on top for 20-30 minutes. Serve warm.
Got a recipe to share?
Send us your best Full Cart recipes and you could get featured!