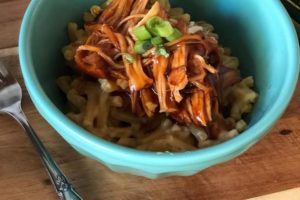 The great thing about the Full Cart Kidz Mac is how versatile it is. Try this savory take on Mac and Cheese today!
Prep Time: 5 mins or 4 hours
Cook Time: 10 mins
Yield: 6 Servings
You Will Need
Kidz Mac Meal Kit
1 lb Chicken Breast
2/3 Cup Brown Sugar
16oz BBQ Sauce
1 Cup Sharp Cheddar Cheese, shredded
Instructions
Add chicken, sugar and BBQ sauce in a slow cooker and cook on high for 4 hrs.
Shred the chicken and mix everything together. Cook for 30 more minutes.
While the chicken is cooking, prepare your Kidz Mac according to the package.
Remove Kids Mac from heat and stir in shredded cheddar until well combined.
Add the barbecue chicken to your Kidz Mac and enjoy!
Got a recipe to share?
Send us your best Full Cart recipes and you could get featured!