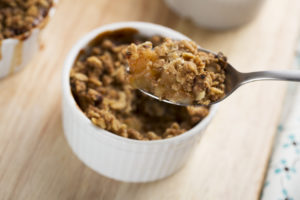 Perfectly paired with ice cream or whipped topping, this apple crisp for two is always a great treat during any season.
Prep Time: 10 mins
Cook Time: 45 mins
Yield: 2 Servings
You Will Need
1 Apple
1 Tbsp Lemon Juice
2 Tbsps Brown Sugar
2 Tbsps quick-cooking oats
2 Tbsps Butter, Melted
A Dash of Ground Cinnamon
Instructions
Preheat the oven to 350°
Wash, peel and slice the apple.
Place apples in an ungreased 2-cup baking dish; sprinkle with lemon juice.
Combine the brown sugar, oats, butter and cinnamon; sprinkle over apples.
Cover and bake at 350° for 30 minutes.
Uncover; bake 15 minutes longer or until apples are tender.
Serve with whipped cream or ice cream if desired.
Got a recipe to share?
Send us your best Full Cart recipes and you could get featured!