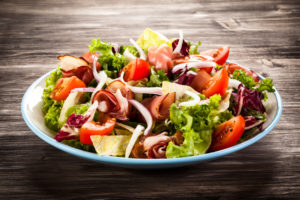 " alt="" width="600″ height="400″ class="size-medium wp-image-24578″>
This recipe elevates the flavor of a simple salad, but it is still just as easy to prepare.
Prep Time: 10 mins
Cook Time: 0 mins
Yield: 4 Servings
You Will Need
8 cups chopped lettuce
3/4 cups chopped tomato
6 ounces of your favorite cheese
1/2 cup olives
2 ounces of your favorite deli meat
1/4 cup sliced pepperoncini
1/4 cup sliced red onion
Your favorite dressing
Instructions
In a large bowl, add the lettuce.
Choose any or all of the other ingredients that you have on hand and add to the bowl.
Toss together with your favorite dressing and enjoy!
Got a recipe to share?
Send us your best Full Cart recipes and you could get featured!