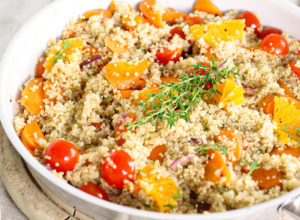 Quinoa is a protein that contains all nine essential amino acids. Light and fluffy in texture with the ability to fill people up. Perfect for a large meal or great for reheating as leftovers.
Prep Time: >5 mins
Cook Time: 20 mins
Yield: 4-6 Servings
You Will Need
½ or ¾ cup of White Quinoa
2 cups of water for every cup of quinoa
½ cup quinoa = 1 cup water
¾ cup quinoa = 1 ½ cup water
Instructions
Rinse quinoa in strainer under running water until water runs clear
Bring water to a boil in a medium pot
Add salt to water to taste
Add quinoa, reduce to medium heat and cover
Simmer the grains until water is completely absorbed (about 15 to 20 minutes)
Fluff with fork, add seasonings or toppings and serve
Got a recipe to share?
Share your recipe on Facebook for a chance to be featured!