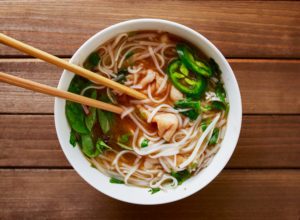 These thin noodles made of rice are perfect for a yummy, gluten-free meal. Typically found in Asian dishes, they are a great addition to most soups or even a delicious pad thai recipe!
Prep Time: >5 mins
Cook Time: 7 mins
Yield: 3 Servings
You Will Need
4 oz pack of Vermicelli Rice Noodle
5 cups of water
Instructions
Place noodles in a deep mixing bowl
Add 5 cups of water to pot; bring to boil
Pour water over the noodles in the mixing bowl until they are completely submerged
Stir noodles every minute or two to loosen them up until completely limp (about 5 to 7 minutes)
Don't overcook as they will become mushy
Strain and run under cold water to stop the cooking process
Toss in oil to keep them from sticking to one another
Add remaining ingredients and serve
Got a recipe to share?
Share your recipe on Facebook for a chance to be featured!