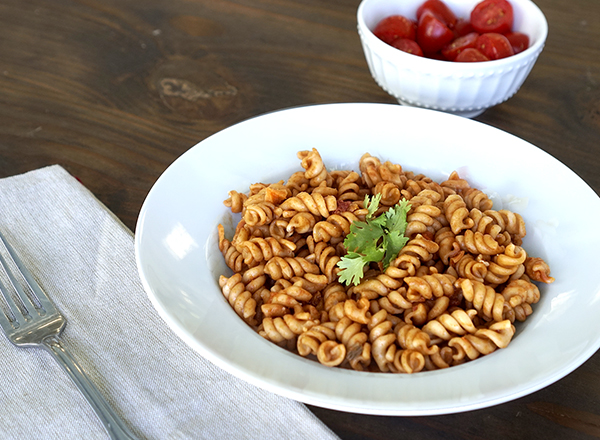 Tasty ribbon noodles, a nutritious blend of veggies and tomato powder that make a flavorful bowl of pasta that's sure to please the whole family!
Prep Time: 0 mins
Cook Time: 10 mins
Yield: 8 Servings
Ingredients
Ingredients: Pasta [Semolina (Wheat), Durum Flour (Wheat), Niacin, Iron (Ferrous Sulfate), Thiamin Mononitrate, Riboflavin, & Folic Acid], Tomato Powder, Dehydrated Vegetables (Carrot, White Onion, Tomato, Field Run Bell Peppers—Green and Red Primarily, Celery, and White Cabbage).
You Will Need
Italian Veggie Pasta – Tomato Flavor Meal Kit
2 Cups of Water
Instructions
Bring 2 cups of water to a boil.
Add the bag of Italian Veggie Pasta: Tomato Flavor.
Stir frequently with an extra long spoon.
Boil for 8 minutes. Continue stirring as the liquid reduces during cooking.
Remove from heat and let cool to preference.
For best results do not strain. Serve as is for the richest tomato flavor!
Got a recipe to share?
Share your recipe on Facebook for a chance to be featured!